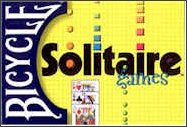 Solitaire-A deck of cards, and a few simple rules- what does it add up to? Challenging, Habit-forming fun! Solitaire games are not easy to win, but, once you begin to play it's hard to stop.
Contains two decks of Bicycle playing cards, plus a 54 page booklet containing rules for a variety of solitaire games.
Sorry, but this product is no longer available. You might try searching at Amazon
or eBay
.