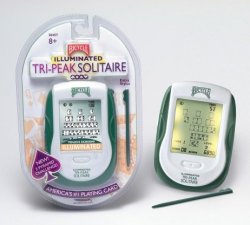 Bicycle, America's #1 playing card, goes electronic with an all-new line of handheld games featuring touch screen technology! Now you can play your favorite card games right in the palm of your hand. Test your skills and your luck with Tri-Peak Solitaire. Clear the pyramids by stacking cards in ascending or descending order. Speed and long card sequences maximize your score.
This popular and challenging touch screen solitaire game features three layered pyramids of cards. Clear the three pyramids by stacking cards consecutively in ascending or descending numerical order. Key features include speed and long card sequences to maximize your score, full illumination to play anywhere, anytime and three levels of difficulty and auto shut off after three minutes. Measures 5.25" high.
Test your skills with this challenging take on Solitaire
Authentic game play
Easy to use touch screen
Fully illuminated to play anytime, anywhere!
2.5-inch by 2-inch LCD screen
Includes 2 styluses, 2 "AAA" batteries, and instructions
Sorry, but this product is no longer available. You might try searching at Amazon
or eBay
.