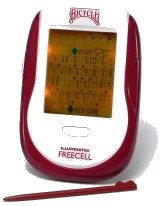 Bicycle, America's #1 playing card manufacturer, goes electronic with an all-new line of handheld games featuring touch screen technology! Now you can play your favorite card games right in the palm of your hand. Test your skills and your luck with FreeCell Solitaire.
Bicycle Illuminated Touch Screen FreeCell features authentic game play with an easy-to-use 3" x 2" LCD screen and a stylus for easy entry. The game is fully illuminated, so you can play anywhere! Put an end to boredom with an engrossing game that fits in the palm of your hand. Take what may be the world's most popular and addictive game with you anywhere!
Test your skills with this challenging take on Solitaire
Authentic game play
Easy to use touch screen
Fully illuminated to play anytime, anywhere!
3-inch x 2-inch LCD screen
Comes with 2 styluses, 2 "AAA" batteries, and instructions.
Sorry, but this product is no longer available. You might try searching at Amazon
or eBay
.