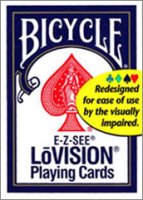 The Bicycle E-Z-See LoVision Playing Cards are standard sized playing cards with jumbo sized numbers to make it easy to read for those with sight problems. Each card measures 3-5/8" by 2-1/2".
Redesigned for ease of use by the visually impaired
Each suit is a different color
Large suit symbols, numerals or letters
This product is available from Amazon.com for $2.58* (was $3.99, save $1.41!).