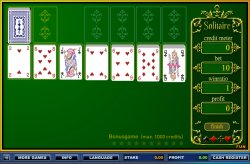 Play classic Klondike Solitaire in this visually-rich, flash-based gaming environment. Turn over cards from the stock one at a time as you try to build your four foundations up in suit from ace to king.
Zigiz offers a large number of great games, all of which can be played for free as long as you like, or played for a chance to win great cash prizes!
In addition to Klondike Solitaire, Zigiz also offers Spider Solitaire, Pyramid Solitaire, Mahjong Solitaire, and many more exciting card, board, puzzle, and arcade games.