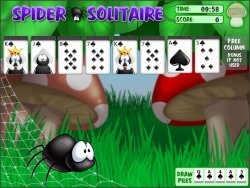 Play the classic game of Spider Solitaire, where you attempt to build sequences of same-suit cards, ordered King through Ace. Once you finish a sequence, it is removed from the tableau. Remove six of these sequences to win the game.
This version of Spider Solitaire uses a deck of 78 cards, consisting of one or two suits, depending on the difficulty you select. In the easier version, the deck consists of just Spades (six of each card). In the harder version, there are both Spades and Hearts (3 of each card).
You can play Spider Solitaire for free, or for cash prizes against live players from all over the world in one-one-one games or in one of the many ongoing tournaments.