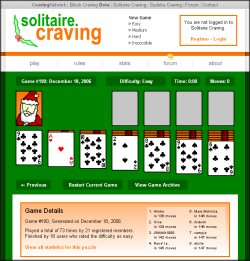 Solitaire Craving offers a free Klondike Solitaire challenge every day. Each day a new Solitaire challenge is randomly generated. You can play the latest challenge or you can browse through existing ones.
Every time you play on Solitaire Craving you will notice that your time and attempts are automatically recorded. When you log in you will also notice that this information is used to rank your progress and skill on each of the challenges.
When a registered member finishes a challenge they are asked to rate its difficulty level. The difficulty level of the game is the average rating given by all of the members. This means that real people have rated the difficulty of a game, not a computer!