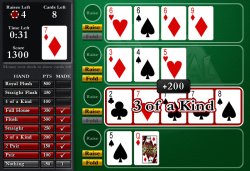 Royal Flush is a fast-paced game of skill in which Poker meets Solitaire. Use raises to score extra points, and fold hands you don't want. Can you create all nine poker hands?
Your goal is to place cards to create nine different five-card poker hands. Each type of hand can only be scored one time. You begin the game with a deck of 52 cards, four Raise Chips, and four rows in which to create poker hands. The top card of the deck will be always be visible to you. Place it into one of the four rows in an attempt to make a poker hand. Finish quickly to earn a time bonus.
You can play Royal Flush for free, or for cash prizes against live players from all over the world in one-one-one games or in one of the many ongoing tournaments.