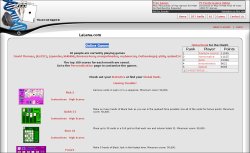 Play free online java games, including unique card games and puzzle games. Many quick games with fast downloads. Solitaires include:
Clean Sweep - Score points by removing adjacent cards of the same value.
Eleven Out - Remove any number of cards at a time that total 11.
Fun21 - Make 5 hands of Black Jack in the fastest time.
Pick 2 - Remove cards in pairs or in a sequence.
Poker Flash - Create poker hands in a 5x5 grid.
Pyramid - Remove pairs of cards that total 13.
Quick 21 - Make as many hands of Black Jack as you can in the quickest time possible.
Sum 31 - Place up to 30 cards in a 5x5 grid so that each row and column totals 31.
Towers - Remove any card that is one above or below the top card of the draw pile.