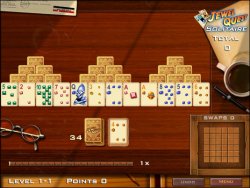 Jewel Quest Solitaire is completely addicting card game fun. Play the basic web version free online.
The creative minds behind Jewel Quest return with a Solitaire game filled with riches and adventure! Jewel Quest Solitaire allows you to play Tripeaks Solitaire in a new way using jewel-themed decks. Match card suits to earn pieces for the jewel quest board then turn the jewel quest board's spaces to gold.
Unearth buried cards, avoid cursed jewels and solve the 114 card layouts on a South American jungle trek. Experience 684 possible card scenarios through an exciting new Jewel Quest story. Embark on your card playing adventure in Jewel Quest Solitaire!