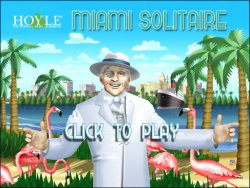 Hoyle Miami Solitaire is completely addicting card game fun. Play the basic web version free online.
Enter the golden era of Art Deco in Hoyle Miami Solitaire. Play a single game, or compete in a solitaire tournament, unlocking different solitaire games as you go. Use your tournament winnings to build a mansion in the upscale and swanky Key Biscayne.
With more than 100 levels and 55 different game types, including four new and exclusive bonus games, Hoyle Miami Solitaire has the variety you crave. Play fast to earn bonus points and bragging rights, or let the Latin rhythms lull you into endless hours of card-flipping fun!