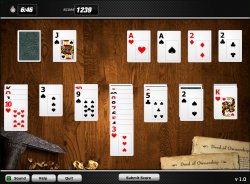 Enjoy the classic solitaire card game found on PC desktops around the world! Stack the cards in alternate suits to reveal the four aces in the pack. Place the aces on each of the four foundation piles and build upwards for a full suit and maximum bonus points.
Be quick! The faster you clear the pyramid, the more points you'll score.
GameAccount allows you to play great games - including realtime multiplayer games, with unlimited free practice, knock-out tournaments, instant prize payouts, free cash bonus with first deposit, and tons of tournaments (daily & weekly progressives, 2-player, 5-player, jackpots, high score & many more). Play for fun or play for cash.