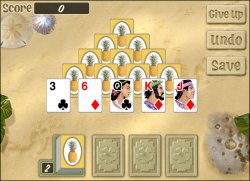 Aloha Solitaire is completely addicting card game fun. Play the basic web version free online.
Immerse yourself in the idyllic Hawaiian Islands of Aloha Solitaire. Get away from it all without leaving the comfort of your home. Relax with a mix of classic card games and mahjong on the golden sands of Hawaii.
Aloha Solitaire can be played in two different modes, normal and hard. Power-up cards will help you get to the next level, but use them wisely, as they are limited. Every level has a different challenge and a different look.