Zigiz Solitaire Games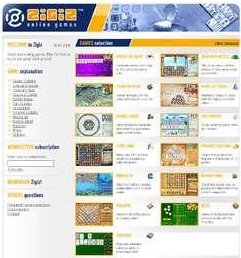 Zigiz is a European skill gaming site, and offers a large number of great games, including card games, puzzle games, and arcade games, all of which can be played for free as long as you like, or played for a chance to win great cash prizes.
Zigiz offers a nice selection of solitaire games, including:
One of the outstanding features of Zigiz is that their gaming environment is quite rich, with great graphics and sound, and the games are also easy to use, with simple drag-and-drop or click-to-select interfaces.
However, some of their rules are a bit unusual. The Klondike and Pyramid games, for instance, offer no redeal, so if you see a move you better go for it, because you won't get a second chance. And the Spider game uses only two suits (clubs and diamonds). I suppose this is intended to make a very tough game a little more manageable, but it is odd. The rules for the TriPeaks game are pretty standard.
Beyond any quibbles with the rules, the high production values in these games make them a very pleasant gaming experience. And their selection of other games (Mahjong Solitaire, match-three games, bubble-popping games, a Yahtzee game, etc.) make this a site worth checking out.