SolSuite Updated for Vista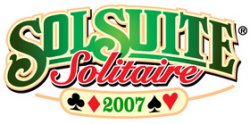 With its most recent update, SolSuite is now fully compatible with Windows Vista. The collection of 470 solitaire games works with all editions of Vista, as well as with older versions of Windows, including XP, 2000, Me, NT, and 98.
The new version of SolSuite, version 7.2, also adds sophisticated new card animations, as well as an improved help system.
SolSuite is a high-quality collection of 470 solitaire games that includes all your favorite games (Klondike, FreeCell, Spider, etc.), as well as a number of original solitaires you can find nowhere else.
Learn more about SolSuite
Download SolSuite (10.51MB)
Purchase SolSuite ($19.95)