Royal Solitaire for iPod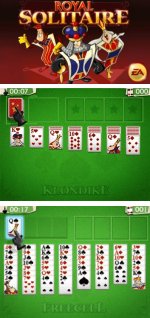 Apple has a new solitaire game collection for the Video iPod, and judging from the screenshots, it looks promising.
Royal Solitaire includes 10 popular versions of solitaire, including Aces Up, Beleaguered Castle, Canfield, FreeCell, Golf, Klondike, Peaks, Pyramid, Scorpion, and Yukon.
Apple says that "crisp graphics and simple intuitive controls translate into hours of playing fun."
I'm curious how well the interface works. It seems to me that controlling the cursor would be a little awkward, compared to a computer or PDA, but probably no worse than many phones.
(I don't have an iPod, so can't test it. If anyone tries this game, I'd appreciate your leaving your impressions in the comments.)
Royal Solitaire is available for $4.99 from the iTunes Store, and can only be installed on fifth-generation video iPods.