Pretty Good Solitaire for Mac OS X v3.0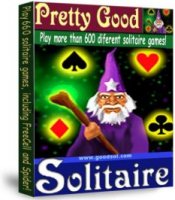 Goodsol Development has just released version 3.0 of Pretty Good Solitaire for Mac OS X.
This flagship Mac solitaire collection includes an astonishing 550 different solitaire card games, from classics such as Klondike, FreeCell, and Spider, to fresh original games available nowhere else.
This is the third major release of the package, which includes 50 new games, a redesigned main screen interface, and retina-optimized graphics. It requires OS X 10.6 or later.
Pretty Good Solitaire's built-in intelligence lets you spend more time planning strategy and having fun, and less time making tedious, routine moves. When you click a card, the program automatically examines all possible legal moves, and makes the most likely choice for you. For those occasional errors that we all make, Pretty Good Solitaire has unlimited undo and redo functions, allowing you to go back to the beginning of the game and re-think your strategy.
Features include:
Easy to play - just drag the cards or click them to move them quickly
Beautiful cards - designed to look like real cards but be easy to see - 20 different card sets
Full Undo and Redo: undo any move or all your moves, and redo them
Automatic Game Saving - saves your games when you leave and you can continue playing when you return
AutoPlay/QuickMove - this option can automatically play cards to the foundations for you
Dynamic Card Sizing - the game selects the best card size to fit your screen, or you can select from one of the 5 card sizes.
Information about what cards can be played in a pile is given when you hold the mouse over a pile
Click the Rules button to see the rules of each game
Statistics for multiple players
Over 2 billion starting positions for each game, so you'll never have to play the same game twice
An unconditional 30-day money-back guarantee
Pretty Good Solitaire is the solitaire game for players who take solitaire seriously!
Learn more about Pretty Good Solitaire for Mac OS X