Kitty Spangles Solitaire 3.5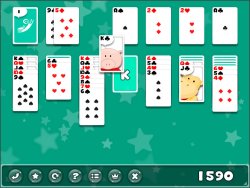 Kitty Spangles Solitaire version 3.5, an update in response to customer requests for new games, now includes the games of Double Pyramid and Single-Card Canfield. This is in addition to favorites such as Klondike, Canfield, Freecell, Penguin and Spider for a total of 40 popular games.
Widely admired for its clear and focused design, Kitty takes solitaire to another level with beautifully styled cards and luxuriously animated themes to suit any mood. Intuitive and friendly game selection makes finding and starting a favorite game quick and easy. New and experienced solitaire players alike will enjoy playing with Kitty for hours, able to seamlessly resize the game window to fit their needs. Kitty will remember the preferences, statistics and high scores for up to 8 players, including the number of games played and won, the win rate, the time taken to win, and much more.
Kitty Spangles Solitaire 3.5 is a free update for registered players. Kitty is a Universal Binary application for Mac OS X 10.3.0 or later, and runs on both PowerPC and Intel Macs.
Learn more about Kitty Spangles Solitaire