Astraware Solitaire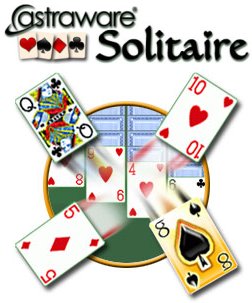 A new solitaire collection for Palm OS and Windows Mobile has debuted from mobile software developer Astraware.
Astraware Solitaire for Palm OS and Astraware Solitaire for Windows Mobile feature twelve of the most well-known and best-loved single player card games, chosen based on direct feedback and suggestions from Astraware customers. The games include Klondike, Pyramid, Spider, and Freecell, and to make the playing experience both familiar and fun, each game has custom gameplay options so everyone can enjoy the games using their favorite variation on the standard rules.
The game's controls have been specially designed to be simple and comfortable with both stylus or 5-way play, and along with just the right balance of effects really make it easy to play and feel like you would when playing with a real pack of cards.
"We really wanted to capture the best things about Solitaire – easy to get into, enjoyable to play, and the nice feeling of playing with cards that sometimes computer games don't capture." Said Howard Tomlinson, Astraware CEO and Game Designer. "Playing just one game at a time is great, but we added the extra incentive of collecting trophies for various achievements within each of the games for those people who want to have a longer goal too. You can play straight off with the normal settings, or customize it in all kinds of ways – it's your game, so we feel you should be able to play it the way you want to!"
Mobile devices are very personal and everyone loves to customise the look of their handheld. Astraware Solitaire offers lots of choices including decorative backgrounds, changeable color themes, and a beautiful selection of cardbacks to enhance the look of your game.
Most important of all, there is a choice of card front including a familiar traditional set with beautiful face cards, and a clear card face which is better for those with visual impairments, or for playing in bright daylight.
If you like to track your progress, the game statistics will tell you how long you've played and how often you win, and Astraware Solitaire also includes a fun trophy system which unlocks extra card graphics and the highly sought-after golden trophy pack of cards. Once you've collected them all, you can even be use them to play with!
With 12 highly-absorbing, traditional card games, Astraware Solitaire is the perfect pastime for everyone's handheld.
The complete list of games included is: Calculation, Canfield, Clock, Four Seasons, Freecell, Golf, Idiot's Delight, Klondike, Pyramid, Spider, Sultan's Harem, and Yukon.
Learn more about Astraware Solitaire for Palm OS and Astraware Solitaire for Windows Mobile.