Solitaire Kingdom Quest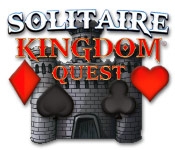 After the King chooses you to join the Solitaire Heroes, you're off on an epic adventure in Solitaire Kingdom Quest! Head out for a dragon's lair, and defeat the Evil Knight who is jealous of your success. Take out his gremlin minions, master his minigames, and defeat terrifying dragons in this exciting Card & Board game. Make the King proud and survive an incredible journey in Solitaire Kingdom Quest!
Solitaire Kingdom Quest expands on the hit Solitaire Kingdom Supreme game, and adds 60 levels featuring new powerups and new challenges. There is a huge amount of Solitaire fun packed into this game waiting just for you.
Make the King proud
Master the minigames
Defeat the Gremlins!
60 levels of Solitaire fun, each a unique game.
Evil Knight mini games!
New powerups like Wolf Pack and Dragon's Hoard.
Pleasing graphics, sound and music.
All stats and top scores saved.
Requires: Windows XP/Vista/Win7, 512MB RAM, 94MB Disk Space, DirectX 9.0 or later
By Funkitron
Operating System: Windows

Solitaire Kingdom Quest Screenshots