micro Solitaire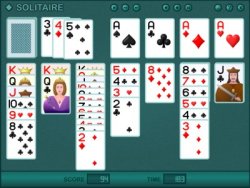 An implementation of Klondike solitaire, featuring new graphic, animation, card design and sounds. The goal is familiar, you have to build up the four suit stacks in ascending order (one for each color), using all the cards in the deck. You win the game when all stacks are completed, and the score you get is based on the card movements and the playing time. You can post your best score to the web site Top Solitaire. Enjoy the game and have fun!
By Microsys Com Ltd.
Operating System: Windows

Additional Information
micro Solitaire includes the following solitaire card games: Klondike.