Crime Solitaire for MacOSX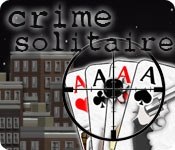 In Crime Solitaire, the Mayor of Topley and the Chief of Police have vowed to save the force from shame by enforcing ancient and little-known laws. As a rookie to the force in modern-day Topley, it's your job to hunt down a new breed of felon and take them out of society.Earn promotions and use power-ups as you explore the city and turn the police department around!
Unique gameplay
Incredible locations
Solve crimes!
Requires: Mac OS X 10.4+, 256MB RAM, 49MB Disk Space
By Big Fish Games
Operating System: Macintosh

Crime Solitaire for MacOSX Screenshots
Other Games You May Enjoy
Crime Solitaire for MacOSX Reviews
Gamezebo - The solitaire game itself is compelling, with the power-ups and various layouts. The crime side of it basically plays itself, since if you gain enough clues the suspects will weed themselves out automatically. The solitaire is good enough to justify to justify checking the game out.