Three Shuffles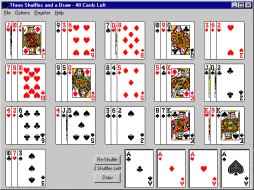 A very addictive solitaire game that has to give you up to three shuffles just to beat it. Build up each of the four suits in an ascending order. It's not as easy as it looks. You'll even get up to three shuffles (You initial shuffle and two more re-shuffles).
Up to three shuffles (Your initial shuffle to begin the game and two more re-shuffles)
One Draw. You may use your one draw to draw any card from anywhere on the game board.
An undo feature for those times you didn't mean to move the card.
Right-click card finder.
By Desertware Technologies
Operating System: Windows