Thieves and Kings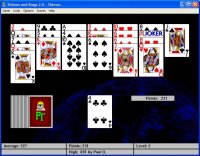 Beautiful cards, great strategy and solid programming make this a great set of games. Thieves is a variation of Golf, except with scoring, wildcards and one or two player mode. Kings Corners is like the traditional solitaire, except with pictures. Fortitude is a brand new and very popular game based on a combination of FreeCell and Patience.
By Thieves and Kings Software
Operating System: Windows

Additional Information
Thieves and Kings includes the following solitaire card games: Fortitude, Kings Corners, Klondike, and Thieves.