Spyde Solitaire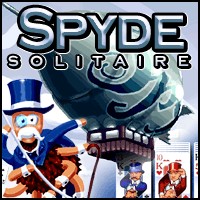 Spyde Solitaire is dramatic new puzzle fun, based on the classic game of spider solitaire! Redesigned to offer 210% more fun than any solitaire game you have ever played! Every puzzle may be solved, and if you get stuck, just destroy the card in your way! You can compete against your friends online, or compare your high score with players all over the world!
By Pretty Good Games
Operating System: Windows

Spyde Solitaire Screenshots
Additional Information
Spyde Solitaire includes the following solitaire card games: Spider.
Other Games You May Enjoy
Spyde Solitaire Reviews
Casual Gamer Chick - Challenging enough to keep you coming back for more, but not so hard that you want to throw your computer out the window