Solitaire Wizard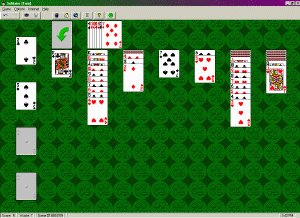 Solitaire Wizard is a solitaire game that includes the popular game Klondike (Windows Solitaire) and 15 other similar games. It features lush graphics, large easy-to-read cards, sound, and in-depth statistics. In addition to Klondike, Solitaire Wizard contains 15 other similar games. Variations include Double Klondike and Gargantua, which are 2 deck variations of Klondike. There are also Klondike variants such as Carlton, King Albert, and Harp, as well as popular games such as Queenie and Lady Jane.
In addition, you can create your own Klondike variations using the Solitaire Wizard. Just set the rules that you want and start playing! And Solitaire Wizard comes with all the features you expect in a computer solitaire game, such as the ability to undo all your moves, to automatically save a game in progress, and to make moves with a single mouse click. Furthermore, Solitaire Wizard keeps detailed statistics of all games played, and has over 2 billion numbered starting positions. You can change the background colors or images of each game, and Solitaire Wizard comes with the best artwork of any solitaire program you will find.
Solitaire Wizard contains 16 games, including: Klondike, Double Klondike, Agnes Bernauer, Agnes Sorel, Carlton, Gargantua, Harp, King Albert, Lady Jane, Milligan Harp, Moving Left, Queenie, Somerset, Springfield, and Taj Mahal.
By Goodsol Development
Operating System: Windows

Additional Information
Solitaire Wizard is 100% adware, spyware, and virus free, and comes with an unconditional 30-day money back guarantee.
Solitaire Wizard includes the following solitaire card games: Carlton, Double Klondike, Gargantua, Harp, King Albert, Klondike, Lady Jane, and Queenie.