Solitaire Studio for PalmOS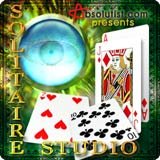 A collection of amusing and addictive patience games will give you hours of pleasure and real entertainment on your Palm OS handheld.
Nearly all Solitaire types have been united in a single pack providing you with a tough brain-storming. Activate your logics and you will even be able to design a patience of your own later. Few dozen of patience are designed to make you relax and enjoy your time thinking over the game! Games include: Baker's Dozen, Beleaguered Castle, Congress, Cruel, Easthaven, Klondike, Pyramid.
By Absolutist
Operating System: Palm

Other Games You May Enjoy