Solitaire Pop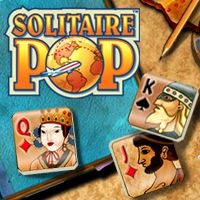 Pack your pick and your passport and brace yourself for a whirlwind expedition that will have you digging your way through ancient ruins all over the globe! Explore archaeological sites and discover lost rarities in this adventurous twist on classic solitaire. Satisfy your pursuit of the mysterious and discover intriguing facts along the way. Create solitaire hands, earn power-ups and dodge perils to unearth rare artifacts from the oracle of Delphi to the excavation sites of Birka and beyond!
2 gameplay modes.
50 fun postcards.
4 bonus artifacts.
Requires: Windows 2000/XP/VISTA, 128MB RAM
By PlayFirst
Operating System: Windows

Solitaire Pop Screenshots
Solitaire Pop Reviews
Casual Review - Fun combination of tile popping and solitaire
Gamezebo - An inspired fusion of two complementary play styles, Solitaire Pop should keep all you lone rangers happily preoccupied for hours on end.
Reflexive Arcade - Right away you are going to notice the crisp artwork, snappy menus, and general attention to detail here.