Solitaire Mania Pro for Palm OS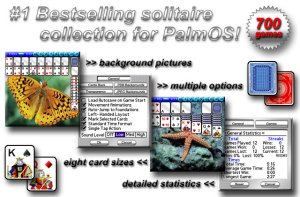 With more than 700 games this is one of the largest solitaire collections for PalmOS, with sharp graphics and animation, high quality sound effects and multiple settings.
Over 700 solitaire games, including FreeCell, Klondike, Spider, Canfield, Forty Thieves, Pyramid, and Yukon.
You can customize the game background, card backs, as well as download full-screen animated backgrounds and plug-ins for the game.
The game supports high quality sound for newer devices, and standard sound for older ones.
The game supports both right-handed and left-handed layout options.
The game alerts you when there are no moves left in a game, at which point you may use the undo button to replay portions of your game or start a new game.
You can filter the list of games according to criteria such as skill level and odds of winning, making it easier to find a game you'd like to play. A quick preview capability shows card layout, difficulty, odds of winning, etc., right from the games list.
The hint option can show you an available move when you get stuck.
The game offers full undo/redo so that you can undo even the longest game to replay any move.
You can save a game in progress and resume it later, and when you return, you're right where you left off.
You can move one or more cards either by dragging and dropping, or by a single tap.
You can configure the game to automatically place cards in the foundations.
Detailed help and statistics are available for each game and across all games.
By PDArt
Operating System: Palm

Solitaire Mania Pro for Palm OS Screenshots
Other Games You May Enjoy