Solitaire Classic for Pocket PC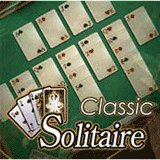 Play the best solitaire games with Solitaire Classic, a collection of 10 solitaire card games for Pocket PC. Enjoy stunning colour graphics, unparalleled ease of use and practical features like hint function, undo moves and much more.
Games include Freecell, Klondike, Spider, Aces High, Calculation, Eight Off, Golf, Tabby Cat, Towers, and Vegas.
By In-Fusio
Operating System: PocketPC

Other Games You May Enjoy