Serious Solitaire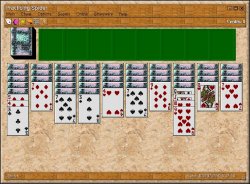 A new way to play Solitaire! More than one hundred of your favorite games are packed into Serious Solitaire. Play a huge range of challenges, unlocking new games, bonuses, cheats and challenges as you go. Hundreds of hours of gameplay.
More than just a collection of games to play, Serious Solitaire offers the player a range of challenges to be completed before they can advance to higher levels and new games options.
There is wide range of preference settings and skins to allow high levels of customization. Featuring 100 solitaire games and more than 200 challenges, Serious Solitaire brings you a new way to play your favorite games. As you progress through the different games you'll unlock more games, challenges and bonuses. Seventeen original games ensure something new for the experienced card player.
By Tower Software
Operating System: Windows

Additional Information
Serious Solitaire includes the following solitaire card games: FreeCell, Klondike, Quads, Spider, and Yukon.