Seahorse Solitaire Combo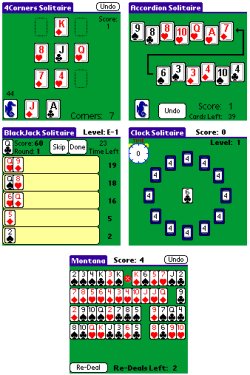 One is such a lonely number... good thing the Seahorse Solitaire Combo has five keep-you-entertained solitaire games in it! Whether you desire the take-it-at-your-own-pace playing of 4Corners, Accordion, and Montana, or the time-ticking thrill of BlackJack and Clock Solitaires, it is all here.
4Corners Solitaire - the classic game of Four Seasons brought to the Palm OS platform. The object of the game is to move all of the cards to the four corners in increasing order, while following suit.
Accordion Solitaire - a game that looks deceivingly simple. The goal is to move all of the cards to the top left-most pile. But to do so, you have to follow some special rules. Don't let the frustration of getting close to winning outweigh the addiction.
BlackJack Challenge - if you are a fan of BlackJack Solitaire, this is sure to become an instant favorite. Combine the addiction of BlackJack Solitaire with the frustration of watching the totals on both the rows and columns.
Clock Solitaire - a game of pure chance. The deal of the cards determine if you win a round or not. But to make things interesting, you can race against your previous times for achieving scores.
Montana Solitaire - a simple goal: just re-arrange all of the cards in ascending order from 2 to King, with each suit per row. But be fore-warned, it is not as easy as it sounds!
By Seahorse Software
Operating System: Palm