Seahaven Towers for Windows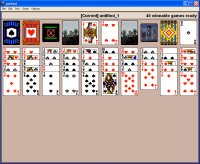 Seahaven Towers 2.0 lets you play a unique puzzle, a solitaire card game that can be winnable 100% of the time. Play games you deal for yourself or share challenges with friends as you work to unravel the 52 card layout by moving cards across the board in sequence or by playing them to and from the Towers at the top of the board. Features an Archive document for saving interesting games, a solver to help you discover if your current position is on the right track, and unlimited undo/redo to help you find the right path to the solution.
At first glance, Seahaven Towers is a solitaire card game. If you take a closer look, though, you will discover that it plays like a puzzle, with each deal presenting its own subtle challenges and surprises. Many users have reported that the game has provided them with thousands of hours of fun (one user has reported playing over 25,000 games since Seahaven Towers was first released in 1988).
By Longwood Wizards Guild
Operating System: Windows

Additional Information
Seahaven Towers for Windows includes the following solitaire card games: Seahaven Towers.
Other Games You May Enjoy