Play Solitaire Forever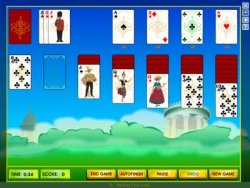 The first thing you do when you start using a computer....Play the most popular and classic card game. This is one of the classic original card games ever made. The game has probably become one of the most popular games since its inclusion in Windows 95. We wish you good luck!
Outstanding animated graphics
Full screen and window modes
Light-hearted background music and sound effects
Keyboard and Mouse control
User-friendly Interface
Install / Uninstall Support
Life-time technical support
Non-violent and fun for all ages
Absolutely FREE Solitaire Game!
By Enjoyfreegames.com
Operating System: Windows