Net Spite and Malice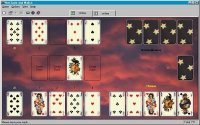 Play Spite and Malice double solitaire with your friends and PC.
Spite and Malice (also known as Cat and Mouse) is a kind of competitive solitaire game for two players. Both players try to be the first to get rid of a pile of "pay-off cards" by playing them to centre stacks which are begun with an ace and continue in upward sequence to a queen. This is not a physical race - in Spite and Malice the players take turns.
Our Net Spite and Malice gives you a chance to play the game with computer bots or live opponents by the Internet or LAN. It is also possible to play simultaneously on two tables easily switching from game to game. For each table you can
- use your own rules for the score system;
- change information window settings;
- select cards and cloth views;
- choose and edit the sound scheme and much more...
Spite and Malice is good for adults and children and could be a great family game!
By NetIntellGames
Operating System: Windows

Additional Information
Net Spite and Malice includes the following solitaire card games: Cat and Mouse, and Spite and Malice.