Mount Sunflower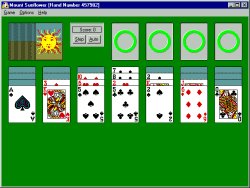 Mount Sunflower is an original card game that includes full game statistics, selectable card backs and background color, sound effects, MIDI music, and extensive online help.
The name "Mount Sunflower" comes about because the initial layout looks something like a mountain, but it's a rather short and dumpy little thing. This brought to mind the highest point in the relatively flat state of Kansas, which is called Mt. Sunflower. Whoever named it must have had a sense of humor, because it's not much of a mountain. In fact, it's hardly even a hill. It's simply the highest point in the grasslands on the very western edge of the state, right on the Colorado line.
Like the peak from which it's named, the game of Mount Sunflower is not a terribly difficult climb. Given sufficient patience and foresight, you'll conquer this mountain more often then not. This is one of those games where you feel, even after losing, that if you'd only played your cards right, the game could have been won.
By Randy Rasa
Operating System: Windows

Additional Information
Mount Sunflower includes the following solitaire card games: Mount Sunflower.