Midnight Oil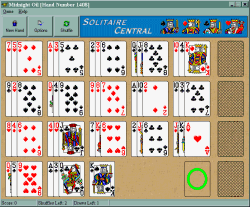 Midnight Oil is a free solitaire card game for Windows. It's proper name is "La Belle Lucie", and is also sometimes known as "Three Shuffles and a Draw". It is one of the very best solitaires, offering ample opportunity for skillful play.
This program offers a fully-configurable background (color, gradient, wallpaper, or bitmap), multimedia sound, large easy-to-read cards, and comprehensive help. It supports two versions of the game – the standard version, in which all cards are dealt to the fans and the foundations start out empty, and a slightly easier version, in which the aces are already moved to the foundations.
By Randy Rasa
Operating System: Windows

Additional Information
Midnight Oil includes the following solitaire card games: La Belle Lucie.