Lochness Solitaire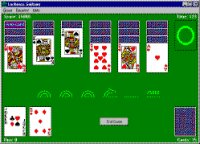 Loch Ness Solitaire is a quick-thinking, high-scoring card game where you race against the clock for extra points while trying to nab the Loch Ness Monster! When you're really good, a single game takes about 60 seconds to play. But you won't be able to stop at just one!
The challenge in this fast and easy solitaire game is to score as many points as possible for each given hand. You score points for every card you remove from the stacks, and get bonus points for any extra time or extra cards left over at the end of the game. Whenever you capture the complete Loch Ness Monster, you'll score a huge bonus – so watch out for Nessie!
Lochness Solitaire includes optional background music, sound effects and a high score table to track your progress.
By Haversack Software
Operating System: Windows