Jewel Quest Solitaire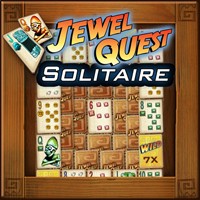 This jewel-themed tri-peaks solitaire game will keep you mesmerized for hours. The creative minds behind Jewel Quest return with a Solitaire game filled with riches and adventure! Play Tripeaks Solitaire in a new way using jewel-themed decks. Match card suits to earn pieces for the jewel board then turn the board's spaces to gold. Unearth buried cards, avoid cursed jewels and solve the 114 card layouts on a South American jungle trek. Experience 684 possible card scenarios through an exciting new Jewel Quest story. Embark on your card playing adventure in Jewel Quest Solitaire!
114 layouts.
2 gameplay modes.
Unlimited gameplay.
Play Jewel Quest Solitaire 2
Requires: Windows XP/Vista, 128MB RAM, 28MB Disk Space, DirectX 6.0 or later
By IWin
Operating System: Windows

Jewel Quest Solitaire Screenshots
Additional Information
Jewel Quest Solitaire includes the following solitaire card games: TriPeaks.
Other Games You May Enjoy
Jewel Quest Solitaire Reviews
GamersInfo - Combines both the fun of a gem matching game and a solitaire card game.
Gamezebo - It's a fun, captivating diversion that does a solid job of satiating the needs of Solitaire fans and gem swappers alike.