Hoyle Miami Solitaire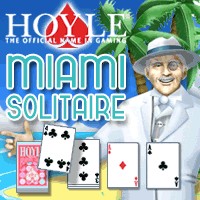 Immerse yourself in the golden era of Art Deco in this solitaire game that will entertain everyone from the card-playing neophyte to the most skilled solitaire veteran! Play a single game, or compete in a tournament, unlocking different solitaire games as you go. Use your tournament winnings to build a mansion in the upscale and swanky Key Biscayne. With more than 100 levels and 55 different game types, including four new and exclusive bonus games, Hoyle Miami Solitaire has the variety you crave!
By Encore Software
Operating System: Windows

Hoyle Miami Solitaire Screenshots
Hoyle Miami Solitaire Reviews
Gamezebo - A solid and fun outing that's appropriate for all ages and skill levels.