Heartwild Solitaire: Book Two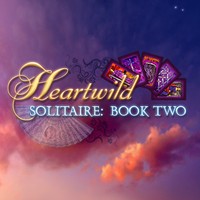 Binky's once comfortable life, working as a maid by day and an artist's model by night, has begun to crumble. Rejected by her secret lover and betrayed by her longtime employer, everything she has ever known is changing. Leaving her future to fate, Binky turns to tarot cards for guidance. Immerse yourself in this unique solitaire-style adventure! Make card matches, collect bonus points for sequential matching, and gather unique level-changing power-ups as you choose which path the story takes!
Branching Storyline With 4 Possible Endings!
280 Levels!
Bonus Rounds!
All-New Features And Rules!
Requires: Windows XP/Vista, 256MB RAM, 62MB Disk Space, DirectX 9.0 or later
By Sandlot Games
Operating System: Windows

Heartwild Solitaire: Book Two Screenshots
Other Games You May Enjoy