FreeCell Wizard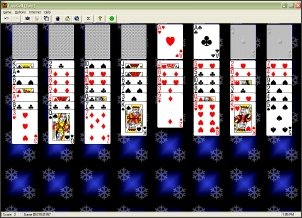 FreeCell Wizard is a solitaire game that includes the popular game FreeCell and 15 other similar games, such as Sea(haven) Towers, Double FreeCell, and Penguin. It features lush graphics, large easy-to-read cards, sound, in-depth statistics, and a wizard that allows you to create your own freecell type solitaire games. FreeCell Wizard game numbers are compatible with the game numbers in Windows FreeCell.
Undo all of your moves
Save games in progress automatically
Make moves with one click using its right-click quick move feature
Detailed statistics
Over 2 billion possible deals
Select among 3 different card sizes
Download additional card sets
includes 15 similar games including Penguin, Sea Towers, Eight Off, and Double FreeCell
Wizard lets you create your own games
By Goodsol Development
Operating System: Windows

Additional Information
FreeCell Wizard is 100% adware, spyware, and virus free, and comes with an unconditional 30-day money back guarantee.
FreeCell Wizard includes the following solitaire card games: Antares, Baker's Game, Bastion, Double FreeCell, Eight Off ForeCell, Four Colours, Milligan Cell, Penguin, Repair, Seahaven Towers, Spidercells, Stalactites, Towers, and Two Cells.