Faerie Solitaire for Mac OS X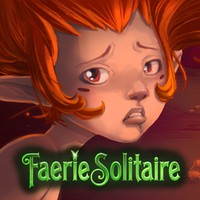 Imagine the most addictive, compelling, and fun version of solitaire you've ever played, mix in some faeries, and you have Faerie Solitaire. Aimed at being entertaining for the whole family, no matter what age you are. Find and raise a faerie pet and repopulate the magical land of Avalon using the resources found by clearing each level. Earn enough gold to purchase unique powerups and specialized upgrades, making each stage a breeze. Chain together combos to fill up your energy meter and save the faeries! With 8 worlds, 40 levels, over 400 hands to play through, loads of upgrades to buy, and one exciting adventure, Faerie Solitaire will have you hooked for months!
Over 400 Different Card Layouts!
Gorgeous Backgrounds!
Collect And Evolve All 32 Pets And Learn Their Secrets!
Play With The Faeries In Faerie Land!
Requires: Mac OS X 10.5 or later.
By Subsoap
Operating System: Macintosh

Faerie Solitaire for Mac OS X Screenshots
Other Games You May Enjoy