Elite Solitaire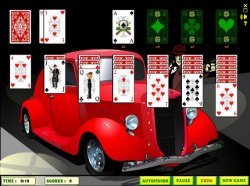 Elite Solitaire offers a fresh look at an old favorite, with great graphics, fun sound, and solid playability.
Play Klondike solitaire with a friendly user friendly interface offering the following features:
You can customize the appearance of the game according to your own taste.
A Table Of Honour allows you and your friends to compete for high scores.
Amusing sound effects (optional).
Original bonuses introducing elements of fortuitousness into game.
Thanks to the simple rules the game guarantees a lot of fun for you.
By DoubleGames
Operating System: Windows

Additional Information
Elite Solitaire includes the following solitaire card games: Klondike.