Elite Freecell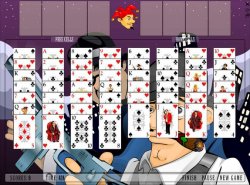 Enjoy Freecell in a whole new way! Elements of adventure have been introduced in the popular game, and you still can play the classic style game as well if you prefer.
You'll be able to choose from several game themes - classic, gangster, prehistoric, beach, erotic and japanese, keeping all the fascination of classic Freecell solitaire and exciting new features at the same time.
A built-in high-scores table will allow you and your friends to compete and compare your results with the others. Thanks to simple and easy-to-learn rules the game guarantees a lot of fun and excitement!
By DoubleGames
Operating System: Windows

Additional Information
Elite Freecell includes the following solitaire card games: FreeCell.