Championship Solitaire Pro for Windows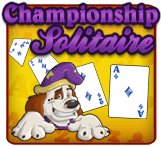 Suit Up to Beat the Clock! Discover a new set of friends with an exciting game of Championship Solitaire Challenge! Our 24 All-Star characters span across 5 levels of difficulty to suit the player in you. Savvy Solitaire players will love challenging realistic opponents, while Solitaire beginners get some extra help with our personal in-game DreamCoach(TM). We'll go beyond just showing you what to play, we'll explain why you play it. Learn the more you play! Enjoy Solitaire at any time of day with Championship Solitaire Challenge!
Challenge 24 fun and realistic All-Star opponents across 5 skill levels.
Sharpen your skills with your in-game DreamCoach.
Explore dozens of Solitaire variations, including Klondike and Challenge.
Personalize your games with different card decks, card faces, and backgrounds.
Stunning new art with bright game menus.
100% Money Back Guarantee!
By DreamQuest Software
Operating System: Windows

Championship Solitaire Pro for Windows Screenshots