Can't Stop Solitaires Collection for Pocket PC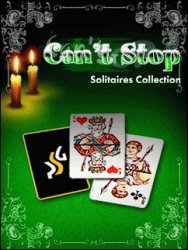 Can't Stop Solitaires Collection is one of the largest solitaire game collections available for Pocket PC, with more than 250 solitaire games (including Freecell, Klondike, Spider, Pyramid, Carpet and many others). All solitaires are sorted in alphabetical order and classified by difficulty and time required to solve.
Can't Stop Solitaires Collection provides detailed rules and an animated demonstration for each solitaire game, as well as hints that will help you to see available moves. The game also provides complete game statistics so you can keep track of your solitaire explorations.
The game offers a variety of cards backs and backgrounds for you to select from, as well as additional downloadable themes to modify the game's appearance. You can create and edit player profiles to save your own unique settings.
By Paragon Software
Operating System: PocketPC

Can't Stop Solitaires Collection for Pocket PC Screenshots
Other Games You May Enjoy