Big Solitaires 3D for Linux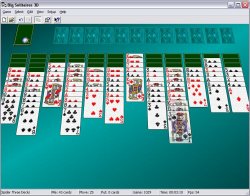 Big Solitaires 3D is a collection of 40 solitaire games with OpenGL 3D rendering. Games include Canfield, Forty Thieves, FreeCell, Golf, Klondike, Scorpion, Spider, Yukon, and many more classic games.
Features include:
Fullscreen /window mode in any resolution supported for the gpu
Camera movement
Full Undo/Redo
Automatic on/off movements
Games with on/two and three (big) decks
Versions available for both Windows and Linux
Requires Linux, and a graphics card (gpu) compatible with OpenG.
By F.J.Cladellas
Operating System: Linux

Other Games You May Enjoy