Alan's Solitaire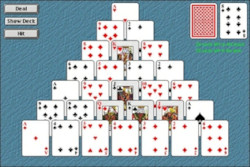 A slightly different kind of solitaire with all the casually challenging fun of the classic game. You are dealt a pyramid of cards and an open card on the deck. You must file the cards on the board onto the deck by going either one above or one below the deck card.
Requires Macintosh System 7.0 or later.
By Ewalt Enterprises
Operating System: Macintosh

Additional Information
Alan's Solitaire includes the following solitaire card games: Klondike.