A Farewell to Kings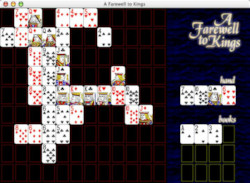 A Farewell to Kings is a completely new concept in solitaire. The gameplay is much different than anything seen, with the focus of the game being much more on logic and strategy than on luck-of-the-draw. The game is fun and challenging, subtle and complex.
In the game, the cards do not connect in the normal "linear" fashion. Instead, they connect two-dimensionally, by matching suits to suits and ranks to ranks. Attaching four-of-a-kind in a square formation completes a "book" of cards which can be removed from the board.
Requires Classic Mac OS 8.6-9.2.1, or Mac OS X 10.4+.
By Rob Steward
Operating System: Macintosh